Posted on August 26, 2015
Thin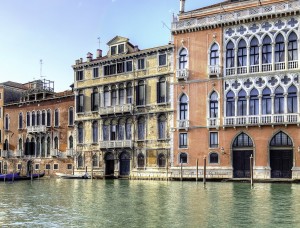 I adore my apartment. I have to be the luckiest woman on the planet, or at least on the Grand Canal. I moved into the renovated palazzo last fall after my friend went back to London and convinced her landlord that I'd be the perfect replacement tenant. I don't know how he feels about me being an American, but he doesn't mind my money.
The palazzo is reached through a narrow maze of calles, or walk ways, accessed through a heavy wooden door set in a high wall with glass shards cemented into the top. The courtyard is filled with ancient stone ornaments and a well, and the brick ground cover is sagging and undulates with mossy danger.  My home is guarded by a friendly gargoyle type creature at the top of a wide flight of marble stairs.
Every time I open the door, I sigh with wonder. Six Byzantine arches frame my view of the Canal and enrich my life with magic, splendor and the promise of romance. I turn on music and dance around my palace with unadulterated joy.
When the palazzo was renovated, it was broken into several apartments so that the count, or whatever he is, can afford to keep the place. My apartment was created with a new, rather thin, wall. Of course they couldn't add a stone one. Venice is sinking you know? And this sheet rock wall allowed them to install electrical outlets, but it does limit my privacy.
My neighbor, Alessandro, is frequently home at night, and I can honestly say that because of him, my Italian is getting much better. He's on his telephonino all the time. He talks with his Mamma, his Nonna and his brothers every night. There is a friend, too. No girlfriend that I can sense.
Did I mention I'm the luckiest woman on the Grand Canal? Alessandro is troppo sexy. And he lives six inches away from me. The walls are so thin, sometimes I can hear him breathing. One of these nights I'm going to get up the courage to knock on it and whisper to him to come over and dance with me.